Bones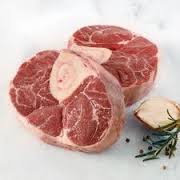 Soup Bone: Ossobucco; Great soup bone with quite a bit of meat on. 2" thick cut bone full of marrow surrounded by meat.

Shank Bone: Just the bone, not much meat on it. Great chew toy for your favorite dog!

Beef knuckles, Neck Bone: Make flavorful stock.

Oxtail: flavorful gelatin-rich meat.
1 Beef Shank Bone | Approx 1 pound @ $2.99/pound = $2.99
1 beef knuckle | Approx 1.3 pound @ $3.99/pound = $5.19
1 Neck Bone | Approx 1 pound @ $2.99/pound = $2.99